1st March 2015
Presentation about Ukraine
Goal: general introduction of Ukraine.
Target audience: German and international students, including PhD students.
Duration: approximately 25-30 minutes.
Presented: January, 16, 2015, in Canossa, Universität des Saarlandes, Campus, 66123 Saarbrücken, Deutschland, during the Ukrainian Evening (Landerabend Ukraine).
Presentation planning group: Dima Panfilenko (Landerabend organizer), Bogdan Tokovenko, Varvara Obolonchykova, Zarema Ibragimova, Ivan Pryvalov.
Slides: Dima Panfilenko (initial version of tourism slides and text), Bogdan Tokovenko (all the other slides/text and final tourism slides/text).
Useful feedback and criticism: Varvara Obolonchykova.
Презентація про Україну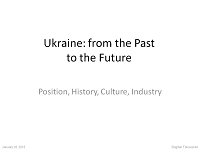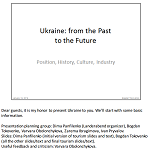 You can also download slide notes as a text file.
Original PowerPoint presentation file is available on request.
Read the rest of this entry »
Posted in Kyiv, Life, Society, Ukraine | No Comments »