1st March 2015
Presentation about Ukraine
Goal: general introduction of Ukraine.
Target audience: German and international students, including PhD students.
Duration: approximately 25-30 minutes.
Presented: January, 16, 2015, in Canossa, Universität des Saarlandes, Campus, 66123 Saarbrücken, Deutschland, during the Ukrainian Evening (Landerabend Ukraine).
Presentation planning group: Dima Panfilenko (Landerabend organizer), Bogdan Tokovenko, Varvara Obolonchykova, Zarema Ibragimova, Ivan Pryvalov.
Slides: Dima Panfilenko (initial version of tourism slides and text), Bogdan Tokovenko (all the other slides/text and final tourism slides/text).
Useful feedback and criticism: Varvara Obolonchykova.
Презентація про Україну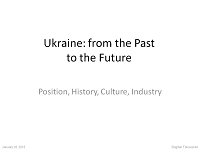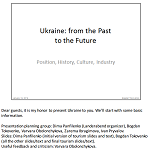 You can also download slide notes as a text file.
Original PowerPoint presentation file is available on request.

License
This work is licensed under a Creative Commons Attribution-ShareAlike 4.0 International License.
You are free to:
Share: copy and redistribute the material in any medium or format.
Adapt: remix, transform, and build upon the material.
Under the following terms:
Attribution: you must give appropriate credit, provide a link to the license, and indicate if changes were made. You may do so in any reasonable manner, but not in any way that suggests the licensor endorses you or your use.
ShareAlike: if you remix, transform, or build upon the material, you must distribute your contributions under the same license as the original.
No additional restrictions: you may not apply legal terms or technological measures that legally restrict others from doing anything the license permits.