26th July 2015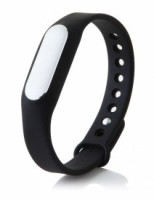 A few days ago, my Mi Band (version 1) stopped properly tracking sleep and counting steps. Here is a full list of symptoms:
synchronization appears to work correctly;
total count of steps is updated, but when you click it – there are no per-hour details;
in the older app version: after sync completes, there is no green message "Updated X items";
night sleep tracker does not update at all: neither total hours slept, nor per-hour details;
the band is otherwise functional, e.g. "Find the band" works – it vibrates and flashes diodes.
Warangelo00 found a solution, which worked for me (and no, you do not need to hard reset the device):
note: the fix below will most probably not work for Mi Band 2, see comments; iPhone owners may try switching iPhone from AM/PM (12-hour clock) to 24-hour clock to fix the non-synchronization problems with MiBand2 – please write in the comments if this method works for you.
enable Bluetooth, if it is disabled;
start Mi Fit, go to Play –> Incoming call (or, in older app version, Settings – Incoming calls);
enable it – set to On;
now call your mobile phone from a different one – wait for the band to vibrate and flash lights;
you should now be able to refresh Mi Fit main page, and see both current day and previous night per-hour details; in the older app version, it should also show the green "Updated X items" message after syncing;
you can now disable incoming calls notification if you don't need it.
According to Holly, the trick may also work for Mi Pulse.
Not sure if this fix will last, but it did help me – thanks, Warangelo00!