10th March 2011
I've been getting this message for a long while, when trying to log into Ovi from within my Ovi Suite:
Nokia Ovi Suite could not connect to the Nokia account server. Make sure the internet connection is working properly and try again.
However, both my internet connection, and logging into ovi.com using a browser work fine. Even looking for updates from within Ovi Suite works fine!
Here's the solution (tested on Nokia Ovi Suite 3.0.0.290):

Important: before trying the solution below, try downloading and running root certificates update program from Microsoft, then restarting Ovi Suite to see if the problem is gone. (Thanks Finn for sharing this one.)
Navigate to Start – Control panel – Internet options (or: start Internet Explorer – Tools – Internet options). It doesn't matter that your default browser is not IE.
Select Content tab.

Click Certificates, select Trusted root certification authorities tab, and sort ascending by expiration date.

Now delete all GTE CyberTrust certificates whose expiration date has passed.
Click Close, then OK
Restart Ovi suite.
If that didn't help: try removing all expired certificates: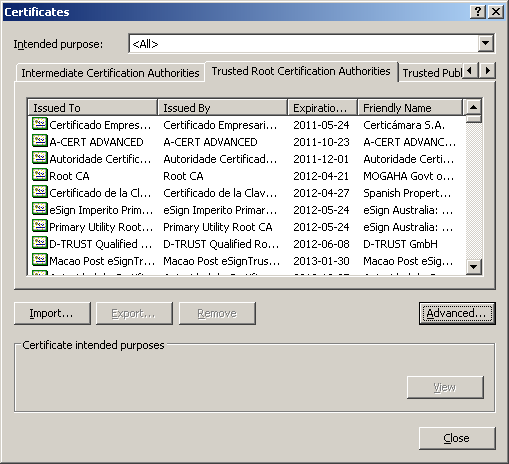 A word of warning
Deleting all expired trusted root certs is not a good idea. You could end up with vital parts of the system not working, or unable to access some documents (especially if you have encryption turned on). Thing is, expired certs can still be valid for anything signed or encrypted before they expired.
Sources used: