3rd August 2006
When you have a new web-project just about to be started, you frequently face the problem of the CMS selection – 'Which CMS is better'? There's a hundred and more various CMS out there. To name just a few – PHP-Nuke, PostNuke, Mambo, Joomla, Drupal, e107, XOOPS, Nucleus, Typo3, Xaraya, YACS! (visit http://www.opensourcecms.com/ for much more and try for yourself).
If you gooogle this problem, you will get loads of forums discussing topics like 'Mambo vs Drupal', 'PHP-Nuke vs PostNuke' etc. But, to be sure, this 'source' of information is not likely to really help you choose. What you need is a good in-depth overview of the systems.

And I found one at IBM's web-site. I strongly recommend reading it if you need to choose a CMS. It's fresh (July 11, 2006), and just good. Here's a CMS comparison table from that address (copyrights belong to respective owners):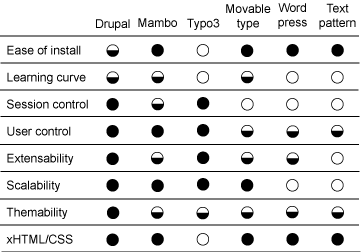 If you'd like to, you can also read Part 2, or the whole series of articles on IBM's web-service design process, titled "Using open source software to design, develop, and deploy a collaborative Web site". In the series, there are also articles describing the use of Eclipse, Apache, PHP, MySQL and phpMyAdmin for the collaborative web-site creation.
: for some reason :), IBM had taken down parts 1 and 2; now only parts three and four are available.